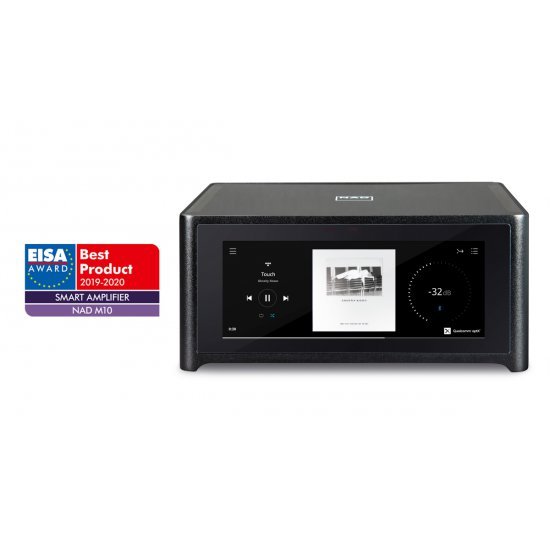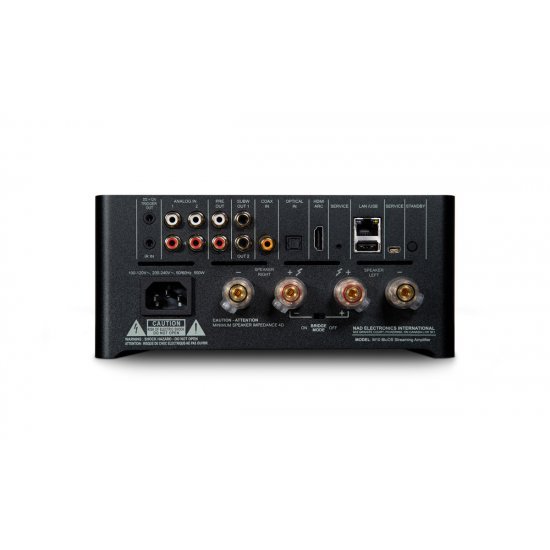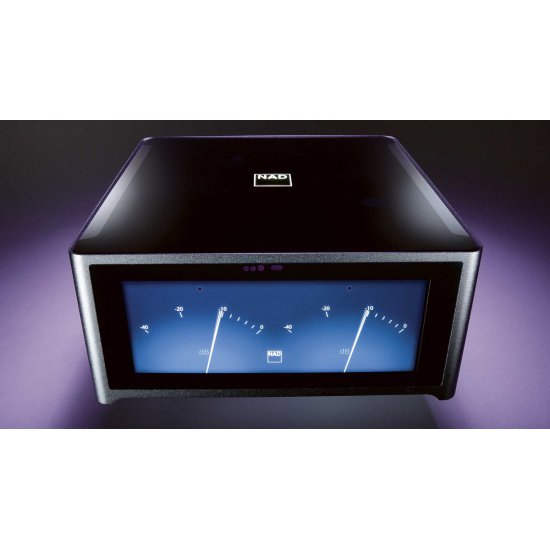 Naujiena




M10 BluOS Streaming Amplifier
The audio world has shifted. Where once available solely on discs, the best quality of music is now delivered over the internet. Not only does it sound better, but entire catalogues of recorded music are more accessible than ever before. Curated playlists make music selection and discovery easy and fun, while multi-room wireless audio multiplies the possibilities. With the NAD Masters M10 we combine all of this goodness with state-of-the-art amplification to make it an all-in-one solution that will transport you to your favourite musical destination.
AMPLIFIER SECTION
LINE INPUT, SPEAKER OUT
Continuous output power into 8 ohms and 4 ohms>100W (ref. 20 Hz-20 kHz at rated THD, both channels driven)THD (20 Hz – 20 kHz)<0.03 % (250 mW to 100 W, 8 ohms and 4 ohms)Signal-to-Noise Ratio>90 dB (A-weighted, 500 mV input, ref. 1 W out in 8 ohms)Clipping power>130 W (at 1 kHz 8 ohms 0.1 % THD)
>230 W (at 1 kHz 4 ohms 0.1 % THD)IHF dynamic power8 ohms: 160 W
4 ohms: 300 WDamping factor>190 (ref. 8 ohms, 20Hz to 6.5kHz)Frequency response±0.6 dB (20 Hz – 20 kHz)Tone controlsTreble: ±6.0 dB at 20 kHz
Bass: ±6.0dB at 60 HzChannel separation>75 dB (1 kHz)
>70 dB (10 kHz)Input sensitivity (for 100 W in 8 ohms)Line In: 1.0 V
Digital In: -6.2 %FSStandby power0.5W
DAC SECTION
Supported audio file formatsMP3, AAC, WMA, OGG, WMA-L, ALAC, OPUSHi-Resolution audio formatsMQA, FLAC, WAV, AIFF, Supports converted DSD playback via the BluOS desktop app (only)Sampling rateup to 32 bit/192 kHz PCMBit depths16 – 24
BluOS SECTION
Supported operating systemsPlays music from network shares on the following desktop operating systems: Microsoft Windows XP, 2000, Vista, 7, 8 to current Windows Operating Systems and Mac OS X versionsUser interface mobile operating system BluOSBluOS – Free Android and iOS App available online at Google Play and Apple App storeSupported cloud services*Amazon Alexa, Amazon Music, Spotify, TIDAL, Deezer, Qobuz, HDTracks, HighResAudio, Murfie, JUKE, Napster, Slacker Radio, KKBox, BugsFree internet radio*TuneIn Radio, iHeartRadio, Calm Radio, Radio ParadiseBluetooth qualityBluetooth aptX HD built-inBluetooth connectivityTwo-Way (Receive and Headphone modes)Network connectivityGigabit Ethernet RJ45, Wi-Fi 5
DIMENSION AND WEIGHT
Gross dimensions (W x H x D)**215 x 100 x 260 mm
8 1/2 x 3 15/16 x 10 1/4 inchesShipping weight5 kg (11 lbs)
NOTE
* – Supported audio file format, cloud services and free internet radio are subject to change without notice.
** – Gross dimension includes feet and extended rear panel terminals
NAD M10 stereo stiprintuvas su tinklo grotuvu
Prieinamumas:

Sandėlyje

Modelis:

NAD M10

Mato vnt.:

vnt.

NAD