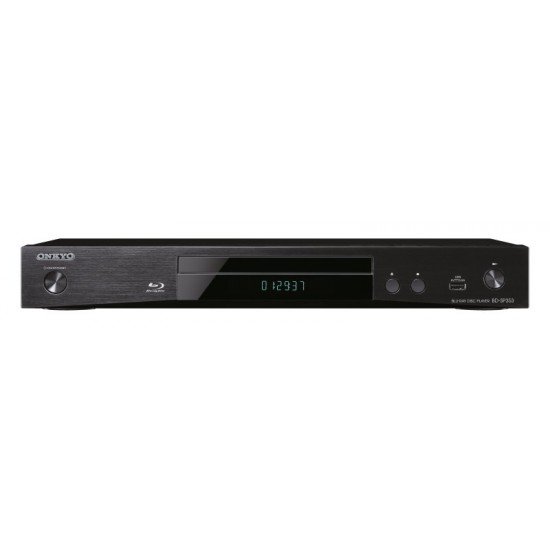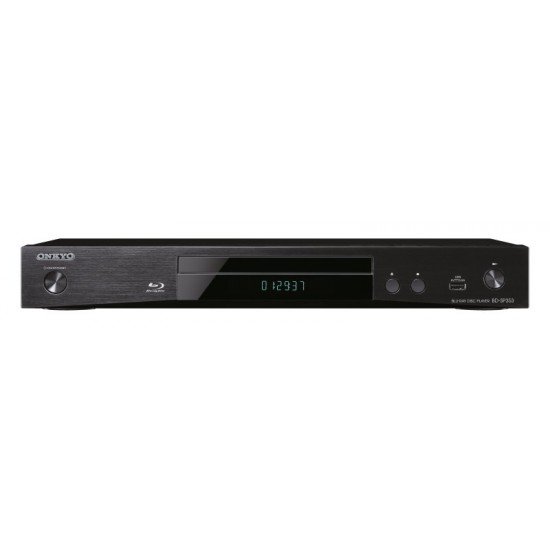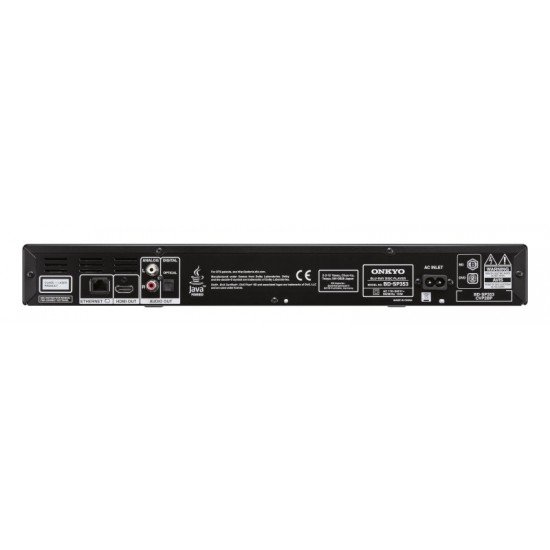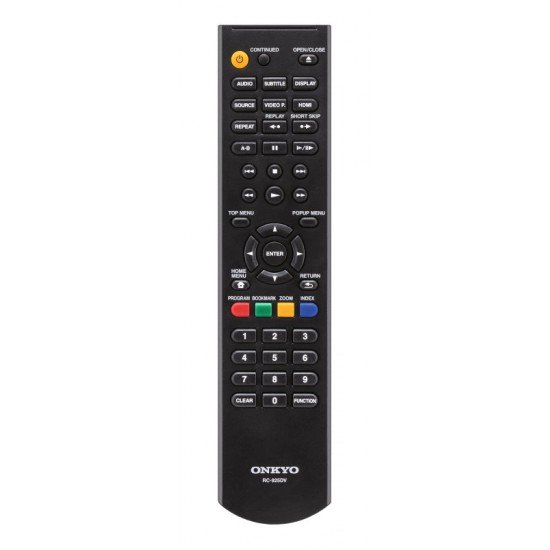 Blu-ray Disc Player
Affordable Blu-ray Disc Player with Hi-Res Audio Playback
The sleek, minimalist lines of the BD-SP353 pack enough playback prowess to enliven any entertainment space. Partnered with one of Onkyo's high-value home cinema systems, the BD-SP353 brings you the phenomenal detail and realism of Blu-ray. But that's not the only source it handles. Along with DVD and CD playback, the BD-SP353 features an Ethernet port which opens up the interactive, content-rich world of BD-Live. Connectivity is also a highlight. The USB port on the BD-SP353 even allows you to play 192 kHz/24-bit Hi-Res Audio formats such as FLAC and WAV. Also it lets you play media from a variety of storage devices. Content encoded in HD formats such as AVCHD and DivX Plus™ HD is handled with ease, and all standard-definition video can be upscaled via HDMI® to widescreen 1080p. As well as handling Blu-ray video, the HDMI output also supports lossless audio from Dolby® and DTS™. So if it's a versatile and affordable playback solution you seek, look no further than the BD-SP353.
High-Definition Surround Sound from Dolby® TrueHD and DTS-HD Master Audio™
The BD-SP353's onboard decoders bring you the lossless, studio-master quality of Dolby® TrueHD and DTS-HD Master Audio Essential™ for Blu-ray Disc. The player outputs these formats in pure bitstream form via HDMI, meaning nothing is lost from the original recording. If you don't have an HDMI-compatible receiver, you can still enjoy playback of standard Dolby® Digital and DTS 5.1-channel content via the onboard optical digital output.
BD-Live Offers a More Interactive Experience
The BD-SP353's BD-Live capabilities let you connect directly to the internet and access a variety of up-to-date content, such as movie previews, games, and live peer-to-peer interactions. The BD-Live specification also includes BonusView™ features, such as picture-in-picture. This function lets you view a small video in the corner of the screen while the main feature plays in the background.
Full High-Definition 1080p Video and Compatibility with AVCHD and DivX Plus™ HD
Blu-ray Disc delivers the most vivid and detailed video images ever seen in home theater. A disc played back on the BD-SP353 can be output in full high-definition 1080p at 24 frames per second—the native frame rate for movies. Meanwhile, the BD-SP353 offers compatibility with the increasingly popular DivX Plus™ HD (MKV) and AVCHD formats, which employ high-compression video codecs. Now you can enjoy big-screen playback of your high-definition movies and video clips recorded on a compatible camcorder.
Continue Mode Gets You Back to Where You Were Watching
Continue key on the remote allows you to save where you left off last night. It lets you continue your entertainment with a snap.
1080p Upscaling Sharpens Your DVD Picture
1080p upscaling improves your standard-def DVD pictures to Full HD, giving your collection a new lease on life.
Specifikacijos:
Pagrindinės savybės:
• HDMI® Output Supports 1080p, Deep Color™, x.v.Color™ and CEC
• Dolby® TrueHD and Dolby® Digital Plus Decoding
• Supports DTS-HD Master Audio™ Essential and DTS-HD High Resolution Audio™
• DVD Upscaling to 1080p
• Plays AVCHD*, DivX Plus™ HD (MKV), MP3, and JPEG Formats
• 1080/24p Video Output for Full HD Movies on Blu-ray Discs
• BD-Live Functionality for Interactive Content
• USB Port for Hi-Res Audio Playback (192 kHz/24-bit WAV, FLAC)
Atkūrimo savybės:
• Plays BD-Video (BD-ROM, BD-R, BD-R DL, BD-RE, DE-RE DL, BD-R LTH)
• Plays DVD-Video (DVD Video, DVD-R, DVD-R DL, DVD-RW, DVD+R, DVD+RW, DVD+R DL, AVCHD Disc)
• Plays Audio CDs and USB Audio Playback (CD-DA, CD-R, CD-RW, MP3, WMA, AAC, WAV, FLAC)
• Digital Audio Output (Optical)
• 2-Channel Analog Audio Output
Papildomos savybės:
• BONUSVIEW™ Compatible
• Quick (x1.5) and Slow (x0.8) View with Audio Playback
• Quick Start Function
• Continue Mode to Resume Even After Powering Off the Player
• Short Skip / Replay
• On-Screen Display with Multiple Languages (English, German, Hungarian, Czech, Slovak, Polish, Slovene, Turkish, French, Italian, and Spanish)
• Auto Power Down
• Firmware Updates (via USB)
Matmenys ir svoris:
• Matmenys: 435 x 58 x 249 mm
• Svoris: 2.0 kg
Onkyo BD-SP353 Blu-ray grotuvas
Prieinamumas:

Teirautis

Modelis:

Onkyo BD-SP353

Mato vnt.:

vnt

Onkyo
Dėl galimybės įsigyti teirautis