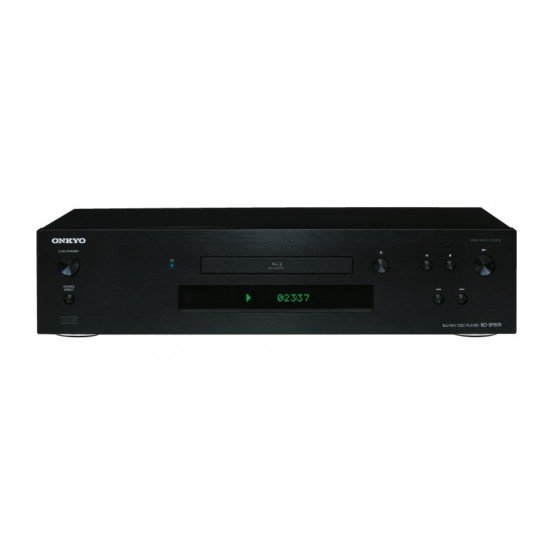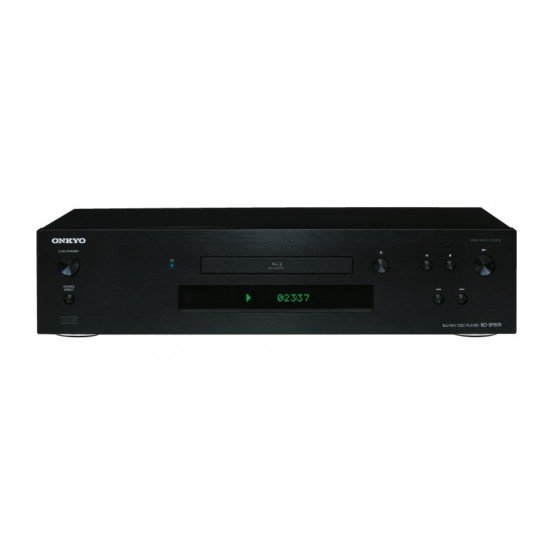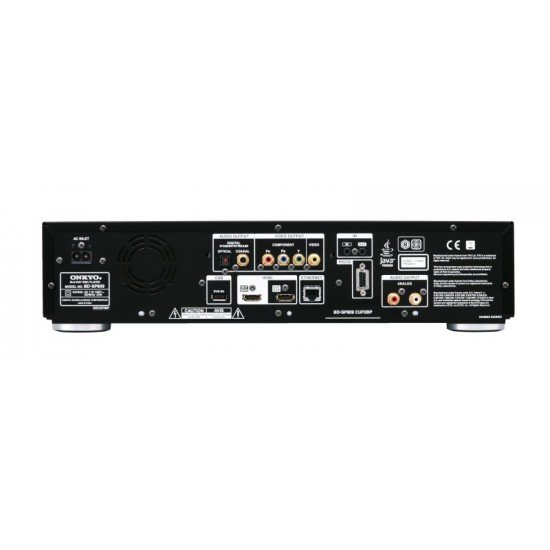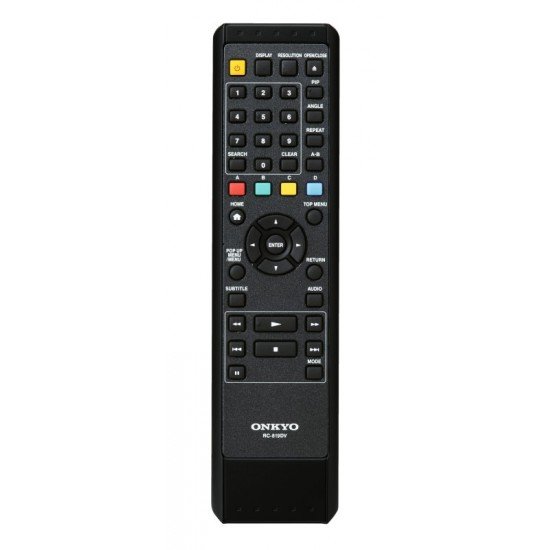 Experience Reference-Quality Playback of Your Blu-ray Library
As Onkyo's flagship Blu-ray player, the THX® certified BD-SP809 is engineered to reproduce Full HD video at the highest
possible fidelity. Qdeo™ processing technology from Marvell ensures pristine deinterlacing, noise-reduction, and 1080p
upscaling of all your optical disc-based video sources including DVD. There are two gold-plated HDMI® outputs allowing you
to switch between two displays, such as a main TV for daily viewing and a projector for movies and sports. Whether you're
playing high-definition DTS and Dolby formats or compressed MP3s, audio benefits from a high-precision clock, separate
blocks for video/audio circuitry to reduce interference, and a vibration-reducing chassis and top cover. As well as playing
both regular and recordable 3D Blu-ray Discs, DVDs, and CDs, the BD-SP809 also features a USB port so you can enjoy
selected audio and video formats via compatible USB flash memory devices. It all adds up to a virtuoso playback solution for
the dedicated fan of quality home entertainment.
Specifikacijos
Pagrindinės savybės:
• THX® certified
• 2 HDMI Outputs with Support for 3D Video on Blu-ray
• HD Surround Sound from Dolby® TrueHD and DTS-HD Master Audio™ Essential
• Full High-Definition 1080p Video and Compatibility with AVCHD
• 1080p Upscaling of All DVD Sources
Jungiamumas:
• 2 HDMI® Outputs Support 3D, 1080p, DeepColor™, x.v.Color™, and CEC
• Ethernet Port for BD-Live and Firmware Updates
• USB Port for Media Content
• 19 mm-Pitch Audio Outputs for High-Grade Cable
• 2 Digital Audio Outputs (Optical and Coaxial)
• Analog Audio, Component Video, and Composite Video Outputs
Vaizdo ir garso savybės:
• Plays BD-Video (BD-ROM, BD-R/RE), DVD-Video (DVD-ROM, DVD±R/RW, DVD±R DL), Audio CD, MP3 CD, WMA CD, DTS-CD, and CD-R/RW*
• BD-Live Functionality for Interactive Content
• 1080/24p Video Output for FULL HD Movies
• Picture-in-Picture Video and Audio Configuration (BD Only)
• Repeat Playback Modes for BD, DVD, and CD: All, Chapter, A-B; Title (BD, DVD only); Track and Random (CD only)
• Angle and Resume Playback (for BD and DVD)
• Digital Noise Reduction for HD Content
Papildomos savybės:
• THX® Certified for Reference Playback
• Supports Blu-ray 3D Playback (When Connected to a 3D-Compatible TV)
• Dolby® TrueHD and Dolby® Digital Plus Decoding
• Supports DTS-HD Master Audio™ Essential
• 1080p Upscaling of Standard Video Sources (1080i, 720p, and 576i/p) with Qdeo™ Technology by Marvell
• Precision Clock for Optimal Timing of Digital Signals
• Plays AVCHD*, MP3, WMA, and JPEG Formats
• Independent Circuit Blocks for Audio, Digital Video, and Analog Video to Reduce Electromagnetic Interference
• Center-Mounted Drive Mechanism for Optimal Weight Balance
• On-Screen Display for Settings and Playback (Auto*/English/French/Spanish/Italian/German/Dutch/Swedish/Russian/Polish/Portuguese)
• Source Direct
• Display Dimmer (Normal/Dim/Dimmer)
• RS232 Port
• IR Input and Output
• Aluminum Front Panel
• Remote Control
Matmenys ir svoris:
• Matmenys (W x H x D): 435 x 104 x 313 mm
• Svoris: 4,7 kg
Onkyo BD-SP809 Blu-ray grotuvas
Prieinamumas:

Teirautis

Modelis:

Onkyo BD-SP809

Mato vnt.:

vnt

Onkyo
Dėl galimybės įsigyti teirautis