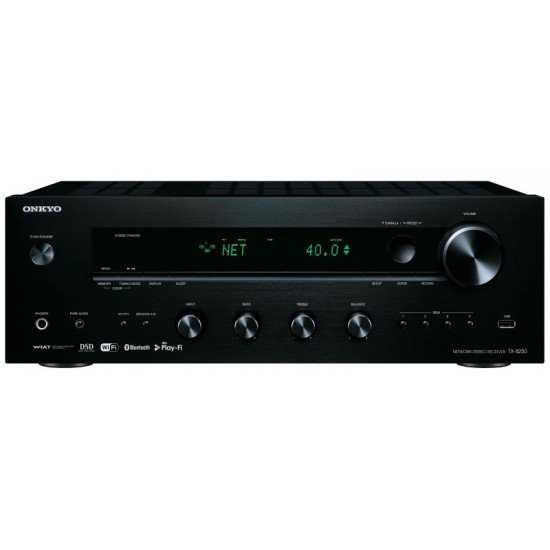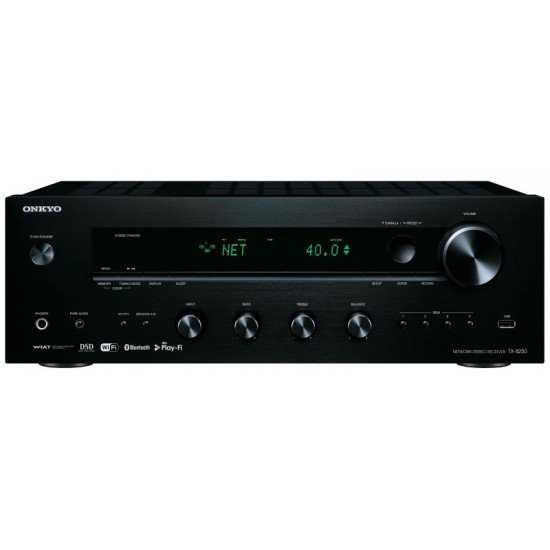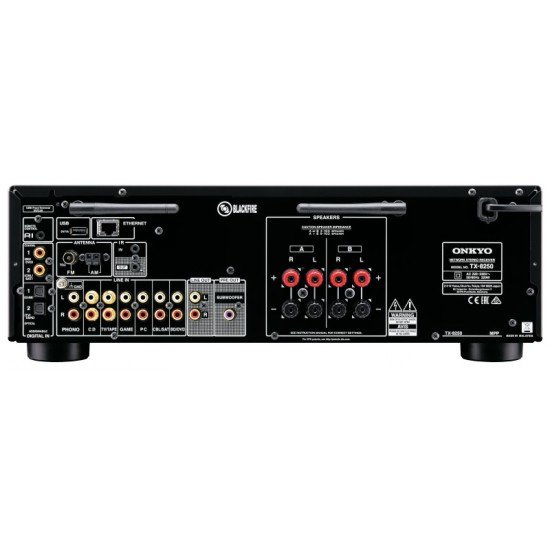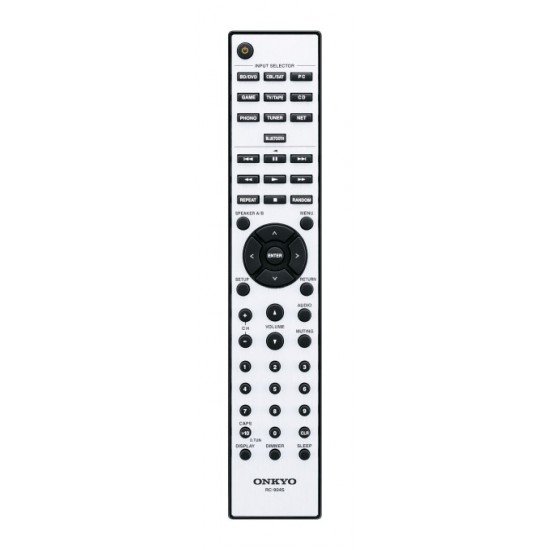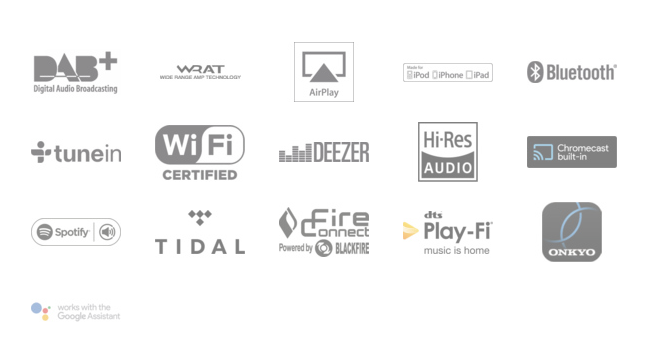 Refresh Your Home Media Experience with Hi-fi Sound
Classic stereo amplification is rejuvenated with network functions that simplify audio streaming from personal devices, while adding convenient ways to cast music around the home. The TX-8250 has Chromecast built-in, FireConnect™, and DTS Play-Fi®* multi-room technologies over 5 GHz/2.4 GHz Wi-Fi® for stable connection. You can play from Spotify®, TIDAL, TuneIn, and Deezer services, cast from iTunes and other apps with AirPlay, or stream with Bluetooth® technology. As the hub of your home hi-fi, the receiver features abundant analog and digital audio connections along with USB Audio and MM phono equalizer, so you can amplify any source of audio you want. Backed by powerful yet precise amplification for expressive musicality, the TX-8250 is a flexible high-performance solution for seamless home entertainment.
Driving Big Speakers with Boundless Energy
Match your TX-8250 with stereo loudspeakers and add genuine hi-fi sound to all your entertainment sources. Discrete high-current amplifiers, massive transformer, and custom-made capacitors assure effortless driving power with very low distortion. High current grips the speaker cones for more accurate control, restoring vitality and detail to music. Non-phase-shift circuitry, meanwhile, clearly focuses the audio image and reproduces a wide frequency bandwidth for best performance with Hi-Res Audio and vinyl sources.
Stream Instantly with Chromecast built-in
Stream any music from your smartphone, laptop, or PC with ease. Control playback with popular Chromecast-enabled apps you know and love from your iPhone, iPad, Android phone or tablet, Mac or Windows® laptop, or Chromebook.
Ready for DTS Play-Fi®* Multi-room Audio
DTS Play-Fi technology lets you stream from linked online services, media server, or device library over Wi-Fi® to any number of compatible products via Onkyo Music Control App for iPad, iPhone, and Android™ phone/tablet. DTS Play-Fi connects systems for synchronized music in every room, and can also stream different music to different rooms from the same device.
FireConnect™ Wireless Multi-room Audio
FireConnect™ mirrors network audio and external analog sources connected to a master component on FireConnect™-compatible speakers in other rooms. Music selection, speaker grouping, and playback management across the home are built into Onkyo Controller app for iOS and Android devices.
Wi-Fi®, AirPlay, and Built-in Streaming Services
Expect fewer dropouts, faster connection, and less interference over 5 GHz/2.4 GHz Wi-Fi. Access to Spotify®, TIDAL, Deezer, and TuneIn are built into the system GUI—use dedciated apps (where available) or Onkyo Controller to find and play music. Cast from PC and iOS devices from iTunes, together with other supported applications, via AirPlay technology.
Onkyo Controller App for Smartphones and Tablets
Onkyo Controller supports receiver and multi-room control; the selection and distribution of on-demand streaming services; AM/FM/DAB+ station selection; USB disk browsing and more from one easy interface on Apple iOS and Android devices.
Simple USB Music
Plug a USB flash-memory device into the front or rear USB inputs to play digital files. Use Onkyo Controller to easily explore albums on the device. MP3, AAC, ALAC, FLAC, WAV, and DSD are supported. With gigabytes of storage now more affordable than ever, USB Audio puts a huge choice of music at your fingertips.
AM, FM/RDS, and DAB+ Tuners
Scan and save 40 FM/RDS, DAB+, and AM radio stations for easy one-touch recall anytime. Bring a huge variety of programming to your listening space, from news and sport to music and talk radio.
Bluetooth® Transforms Mobile Audio Into Room-filling Sound
With Bluetooth wireless technology, you can stream almost any audio playing on your smartphone, tablet, laptop, or PC. Auto Connect function and wake-on-signal detection gets wireless music happening in moments.
Connects Turntables, CD Players, and Everything in Between
Crafted for music and film lovers seeking authentic hi-fi sound, the TX-8250 is extensively equipped with inputs to connect wide range of players. Use Hi-Res Audio-ready digital audio inputs to route TV or PC audio through to the speakers, line-level inputs for a good-quality CD player or DAC, and the MM phono input for your turntable. Enjoy room-filling reproduction of these as well as FM/DAB+, AM, USB Audio, Network, and Bluetooth sources with ease.
Quality Digital-to-Analog Processing
An AK4452VN digital-to-analog converter from AKM features unique low-distortion filtering technologies ideally suited to the extended frequency response of Hi-Res Audio files. Excellent S/N and low-noise performance assures clear analog conversion of any digital source.
Specifikacijos
Stiprintuvo savybės:
• Power Output:
135 W/Ch (6 Ω, 1 kHz, 1%, 1 Channel Driven, IEC)
140 W/Ch (6 Ω, 1 kHz, 10%, 1 Channel Driven, JEITA)
• Dynamic Power:
180 W (3 Ω, Front)
160 W (4 Ω, Front)
100 W (8 Ω, Front)
• THD+N (Total Harmonic Distortion + Noise): 0.08% (20 Hz–20 kHz, Half Power)
• Input Sensitivity and Impedance:
200 mV/50 kΩ (Line)
2.5 mV/50 kΩ (Phono MM)
• Frequency Response: 10 Hz–100 kHz/+1 dB, -3 dB (Direct Mode)
• Signal-to-Noise Ratio:
106 dB (IHF-A, Line In, Speaker Out)
80 dB (IHF-A, Phono In, Speaker Out)
• Speaker Impedance:
4 Ω–16 Ω (A or B)
8 Ω–16 Ω (A + B)
Įvestys/išvestys:
• 2 x Skaitmeniniai optiniai įėjimai
• 2 x Skaitmeniniai koaksialiniai įėjimai
• 6 x Analoginiai stereo įėjimai
• 1 x Korekcinio stiprintuvo įėjimas
• 1 x Išėjimas bosinei kolonėlei
• 2 x USB-A tipo lizdai
• 1 x Lizdas interneto laido kištukui
• Ausinių lizdas
Tinklo grotuvo savybės:
• Features Chromecast built-in Wireless Audio Streaming Platform
• FireConnect™ Multi-room Audio Distribution to Wireless Speakers
• Works with Google Assistant Smart Speakers
• Apple AirPlay Audio Streaming from iOS, iTunes, and Supported Apps
• Spotify, TIDAL, TuneIn, and Deezer Streaming Services
• Dual-band 5 GHz/2.4 GHz Wi-Fi for a Stable Connection
• Control and Manage Multi-room Playback with Intuitive Onkyo Controller App for Android™ and iOS Devices
• Stream from Mobile and PC via Bluetooth Version 4.1 +LE (A2DP/AVRCP) with Wake On Play, Bluetooth Standby, and Auto Connect Function
• FM/RDS, DAB+*4, and AM Radio Tuners with 40-Station Memory Presets
• Radio Station Preset Naming (Up to 10 Characters)
• Audio Playback via USB Flash-memory Devices with Onkyo Controller Navigation
• AKM AK4452VN Digital-to-Analog Converter
• Supports Hi-Res Audio via Network and USB (DSD Direct 2.8 MHz/5.6 MHz*5 and 192 kHz/24-bit PCM)
• Decodes FLAC, WAV, ALAC, DSD, AIFF, WMA Lossless, MP3, and AAC Formats via Network and USB
• Advanced Music Optimizer Improves Compressed Digital Audio Quality, Including Bluetooth Audio
Matmenys ir svoris:
• Matmenys: 435 x 149 x 329 mm
• Svoris: 8.5 kg
Onkyo TX-8250 integruotas stiprintuvas su tinklo grotuvu
Prieinamumas:

Teirautis

Modelis:

Onkyo TX-8250

Mato vnt.:

vnt.

Onkyo
Dėl galimybės įsigyti teirautis