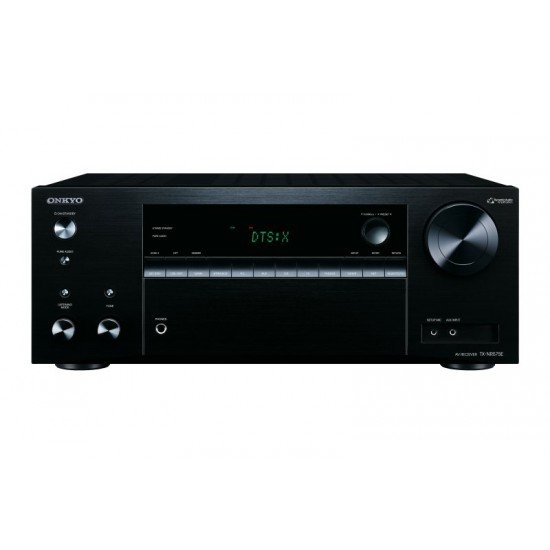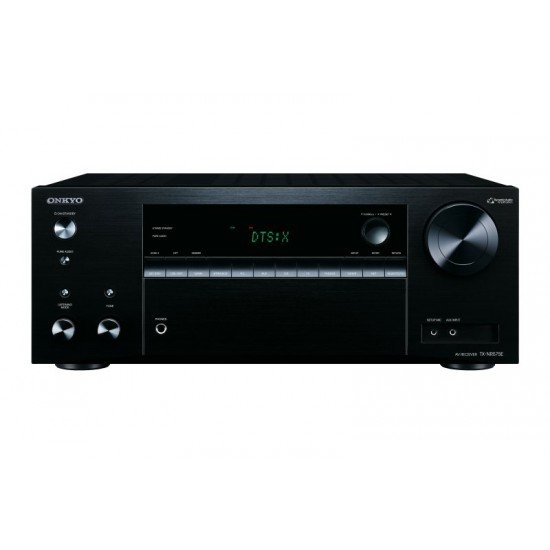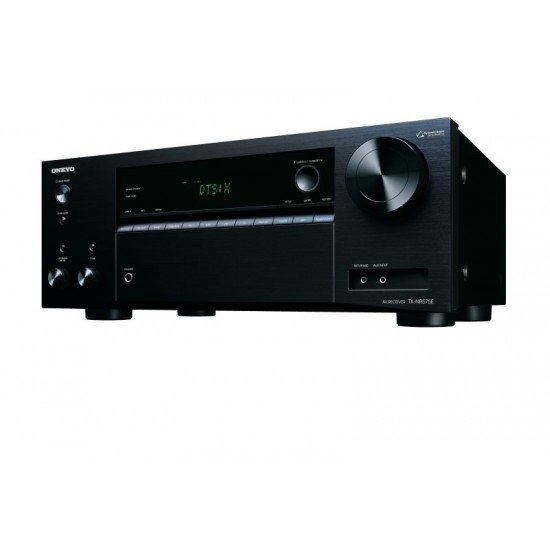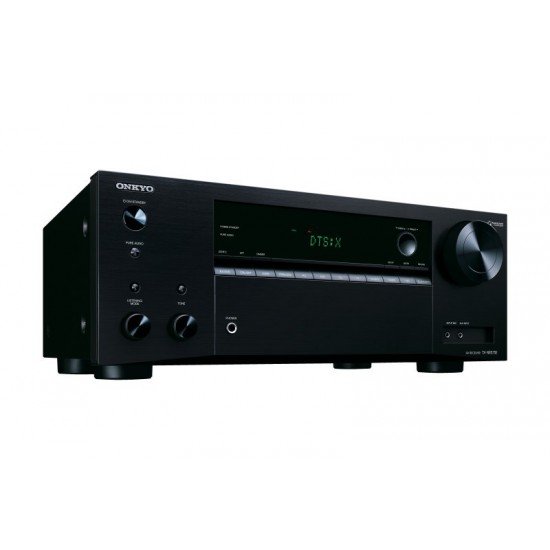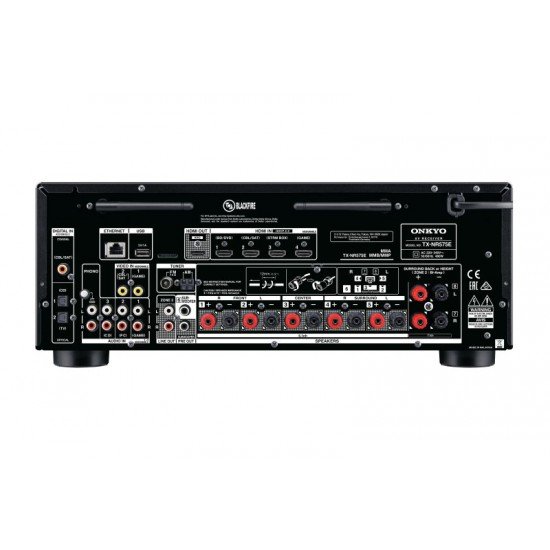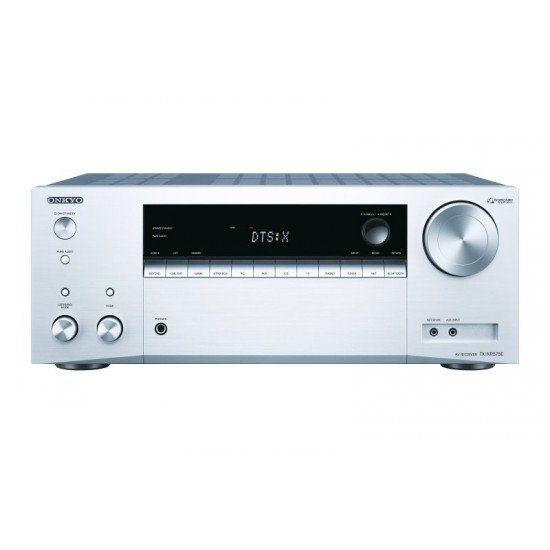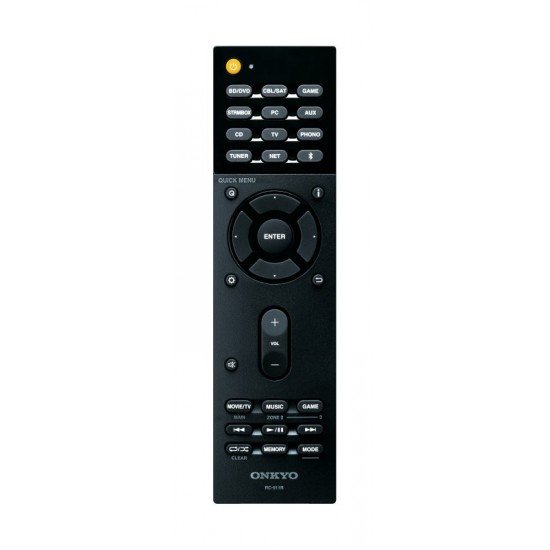 -9 %







Made for iPod iPhone iPad
Bluetooth
TuneIn
WiFi certified
AccuEQ
Deezer
Dolby Atmos
Hi-Res Audio
Chromecast built-in
384/32
Spotify Connect
DTS:X
TIDAL
FireConnect
Dynamic Audio Amplification
DTS Play-Fi
Onkyo Controller
Dolby Vision compatible
7.2-Channel Network A/V Receiver
Entertainment that's Worth Racing Home For
An object-audio-enabled amp that fits you like a glove, whether you're a sports fan, music streaming subscriber, or film buff, the TX-NR575E has the front-end tech and high-octane power to thrill. HDMI® inputs pass 4K/60p video with 4K HDR and BT.2020 to your display with onboard decoding for Dolby Atmos® and DTS:X™ sound, while Hi-Res Audio playback in DSD and 192/24 formats is available for stereo purists. You can also share network and analog sources to compatible wireless speakers over FireConnect™* powered by Blackfire. Network audio controlled by Android™ and iOS devices includes AirPlay, Spotify®, and music streaming over dual-band Wi-Fi®, and the receiver comes with Chromecast built-in* and DTS Play-Fi®*. Built on Dynamic Audio Amplification, the TX-NR575E is waiting to transform your entertainment lifestyle.
Unlock Dolby Atmos® and DTS:X™ Playback
Object-based soundtracks allow independently mixed sound to play through any speaker in your system. Effects move all around as they do in real life, so you experience 5.2.2-channel Dolby Atmos or DTS:X formats as the director intended. DTS Neural:X™ identifies spatial effects in multichannel soundtracks and upmixes for 3D playback, while DTS:X offers independent dialog volume control for movies. Dolby Surround is also included to upmix legacy multichannel formats for playback in a Dolby Atmos-enabled environment.
FireConnect™ Wireless Multi-room Audio
FireConnect™ mirrors network audio and external analog sources connected to a master component—from streaming services to vinyl records—on FireConnect™-compatible speakers in other rooms. Music selection, speaker grouping, and playback management across the home are built into Onkyo Controller app for iOS and Android™.
Note: FireConnect™ is enabled with a firmware update. Sharing audio from external inputs depends on the model and is enabled with a future firmware update. Sampling rates of 44.1 kHz and 48 kHz are supported. FireConnect™ is a technology based on Blackfire provided by Blackfire Research Corp., USA.
Onkyo Controller Supports Next Generation Network Audio
Onkyo Controller app collects streaming services and network-attached audio into an intuitive interface. Control playback, navigate internet services, and distribute audio all over the home with ease.
Music Made Easy with Chromecast built-in*
Stream any music from your smartphone, laptop, or PC to the TX-NR575E with ease. Control playback with Chromecast-enabled apps you know and love from your iPhone, iPad, Android phone or tablet, Mac® or Windows® laptop, or Chromebook.
Stream Anything with DTS Play-Fi®*
DTS Play-Fi is a wireless protocol that works with any audio app on mobiles and PC. Flick whatever's playing to the receiver, even different sources to different components at the same time.
Wi-Fi®, AirPlay, Spotify®, and Bluetooth®
Selectable 5 GHz/2.4 GHz Wi-Fi assures stable connectivity so you can enjoy smooth streaming over AirPlay, the Spotify app, and the local network. Bluetooth wireless technology also provides quick and simple wireless streaming from your choice of music application.
Internet Radio and Streaming Services
TIDAL, Deezer, and TuneIn are baked into the GUI, making it easy to select from a huge range of music and radio programs using Onkyo Controller.
Supports HDR10, Dolby Vision™, BT.2020, 4K/60 Hz, and HDCP 2.2
Four rear HDMI inputs support pass-through of HDR10 and Dolby Vision, the BT.2020 4K video standard, 4K/60 Hz video, and HDCP 2.2-protected premium video content untouched from source to screen.
Powerful Amplification for Dynamic Sound
High current power is proven by the ability to drive four-ohm speaker loads, which will severely test the strongest multichannel amplifier. Heaps of muscle means superior control for improved clarity and transient response, restoring energy to stereo and multichannel sound. Further, VLSC™ eliminates pulse-noise for optimal playback of high-quality stereo sources.
Graphical User Interface with Easy Setup
With your speakers and media players connected, plug in the AccuEQ mic and let the GUI guide you through initial setup, from speaker calibration (including AccuReflex phase correction for Dolby Atmos-enabled speakers) to network connection. The refined interface makes control simple and enjoyable.
Powered Zone 2 and Zone 2 Lineouts
Powered Zone 2 speaker outputs let you send amplified network and analog audio sources to a pair of speakers in another room. Line outputs can connect your home cinema network and analog audio sources to a separate hi-fi system. Control playback using Onkyo Controller.
Specifikacijos:
Pagrindinės savybės:
• Supports 5.2.2-Channel Dolby Atmos and DTS:X Playback
• 135 W per Channel
• HDMI 4 In / 1 Out (4K/60 Hz / HDR10 / Dolby Vision™/ HDCP 2.2)
• Dynamic Audio Amplification with 4 ? Speaker-driving Capability
• 384 kHz/32-bit DAC and VLSC™ Filtering for Superior Clarity
• Ready for Chromecast built-in* and DTS Play-Fi*
• 5 GHz/2.4 GHz Wi-Fi®, AirPlay, Spotify, TIDAL, Deezer, Pandora®, TuneIn*5
• FireConnect™*1 Wireless Multi-room Audio
Stiprintuvo savybės:
• 135 W/Ch (6 ?, 1 kHz, 1% THD, 1 Channel Driven, IEC)
• Dynamic Audio Amplification Syst
Onkyo TX-NR575E namų kino stiprintuvas
Prieinamumas:

Teirautis

Modelis:

Onkyo TX-NR575E

Mato vnt.:

vnt

Onkyo
Dėl galimybės įsigyti teirautis