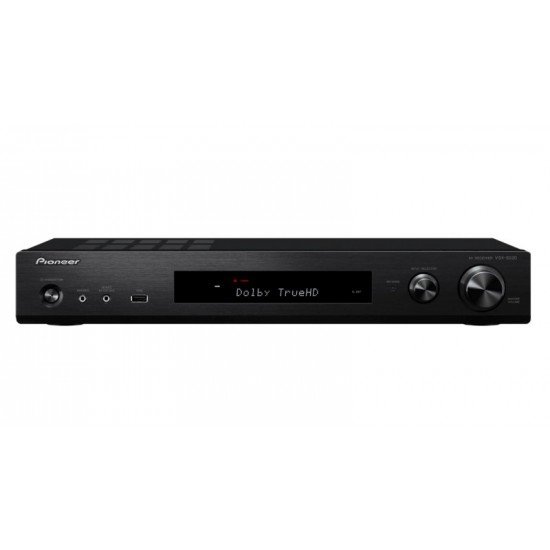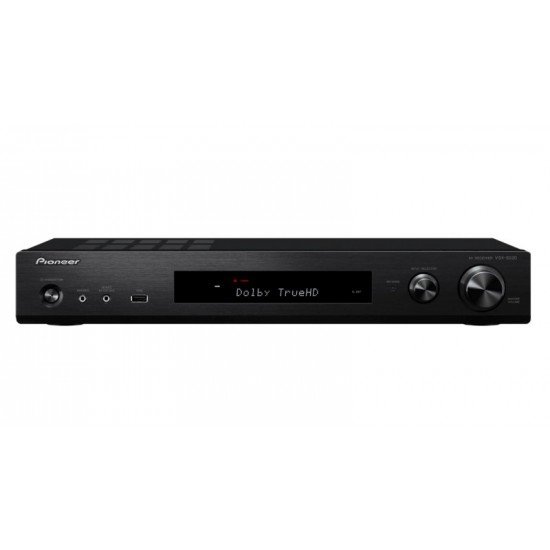 Super-flat AV receiver with a full list of features
Modern multi-channel speaker sets do not have to be big. Even very discreet, compact 5.1 systems readily create an enthralling cinema atmosphere in the living room that is simply not possible with sound bars, let alone TV speakers. The matching AV receiver should be as flat as possible but also of high quality – a role that is played perfectly by the VSX-S 520. With its housing height of just 65mm, it matches current Blu-ray players like the BDP-X 300. It is available in three different colours to coordinate with any TV model and interior decorating style. Class D output stages developed by Pioneer guarantee rich performance with six 80-watt channels notwithstanding the flat design – enough to adequately power even high-end speakers. In order to take full advantage of their sound even in problematic rooms, the MCACC automatic calibration system unerringly and effectively corrects problems with the acoustics. And since the VSX-S 520 looks best with the fewest possible devices around it, Pioneer simply integrated the music sources: high-resolution DLNA streaming, Internet radio, the Spotify, Tidal and Deezer subscription services, AirPlay and Bluetooth ensure that this discreetly styled entertainment professional never runs out of material.
Specifikacijos
Garso dalis:
• Garso kanalų skaičius: 6
• Galingumas: 80 W/ch (4 ohms, 1 kHz, THD 1.0 %, 1ch Driven)
Įvestys/išvestys:
• 4 x HDMI įėjimai
• 2 x Analoginiai stereo įėjimai
• 1 x korekcinio stiprintuvo įėjimas
• 1 x Skaitmeninis optinis įėjimas
• 1 x Skaitmeninis koaksialinis įėjimas
• 1 x Interneto laido lizdas
• 1 x HDMI išėjimas su ARC
• 1 x Pre Out išėjimas žemų dažnių garso kolonėlei
• 1 x USB-A tipo įėjimas
Tinklo/failų grotuvo savybės:
• Dolby® TrueHD/Dolby Digital Plus/Dolby Pro Logic II
• DTS-HD Master Audio/DTS-HD High Resolution Audio/DTS 96/24/DTS-HD Express/DTS Neo:6 5.1
• DSD Playback via Network/USB (5.6 MHz/2ch 2.8 MHz/2ch)
• DSD Disc (SACD) Playback via HDMI (2.8 MHz/5.1ch, 2ch)
• Digital Core Engine with Cirrus Logic (Quad Core) x1
• HDMI Audio Return Channel (ARC)
• FireConnect™ for Multi-room Audio
• Google Cast
• Apple AirPlay Certified
• Spotify®, Tidal, and Deezer Music Streaming Services Ready
• Internet Radio (TuneIn)
• Hi-Res Audio File Playback via USB/Network
Up to 192 kHz/24-bit ALAC, AIFF, FLAC, WAV
5.6/2.8 MHz DSD Playback
Papildomos savybės:
• MCACC Auto Room Tuning
Phase Control
Subwoofer EQ (4 Band)
• Advanced Sound Retriever (2ch)
• Advanced Surround Modes: Classical, Unplugged, Entertainment Show, Drama, Advanced Game, Action, Rock/Pop, Sports, Extended Stereo, Extended Mono, Front Stage Surround, Auto Surround
• Ultra HD Pass-through with HDCP 2.2 (4K/60p/4:4:4/24-bit, 4K/24p/4:4:4/36-bit, 4K/60p/4:2:0/36-bit)
• HDR and BT.2020 Support
• Ultra HD Upscaling (1080p 4K)
• 3D Ready (Blu-ray Disc™, Broadcast, and Games)
• Deep Colour (36-bit), "x.v.Colour"
• Built-in Wi-Fi (Dual Band 5 GHz/2.4 GHz)
• Built-in Bluetooth® Wireless Technology (Version: 4.1, Profile: A2DP/AVRCP, Codec: SBC/AAC)
• Works with Pioneer Remote App (iOS/Android)*4
• New GUI with System/Network Setup Menu
• Auto Power Off in HDMI Standby Through
• FM (RDS) Tuner 40 Presets
• Sleep Timer
• User-Friendly Simple Remote Control
Matmenys ir svoris:
• Matmenys: 435 x 70 x 325 mm
• Svoris: 4.0 kg
Pioneer VSX-S520 namų kino stiprintuvas
Prieinamumas:

Teirautis

Modelis:

Pioneer VSX-S520

Mato vnt.:

vnt.

Pioneer
Dėl galimybės įsigyti teirautis