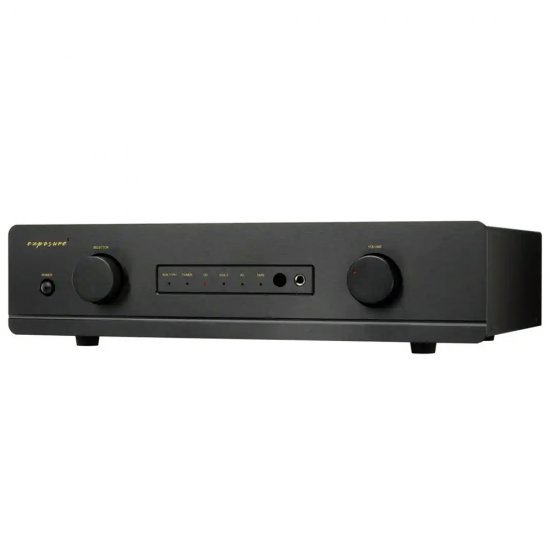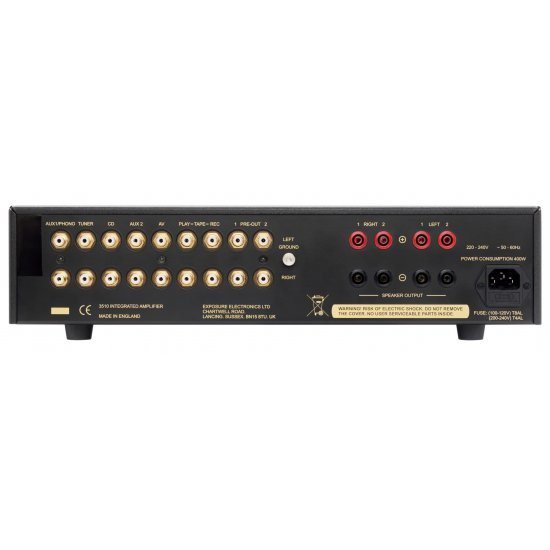 Naujiena


Exposure 3510 Integrated amplifier
The new Exposure 3510 integrated amplifier replaces the previous model and provides additional features and a performance boost over the already highly rated and revered 3010s2D.
Features:
110W RMS per channel into 8 Ohms
Six line inputs
Option to fit a MC or MM phono module OR plug in DAC option
Bi-wiring compatible
Separate preamp output
High quality capacitors used in the signal path
Uniquely tuned short signal and power supply path PCB
Cascode circuitry utilised for improved power supply immunity
Fast bipolar transistor output stage for dynamic and vivid performance
All aluminium casework and extruded front panel to control resonance and stray electromagnetic fields
Remote control
Three year guarantee
Available in black or titanium
Expansion Cards:
DAC Board: All discrete transistor output stage
High quality parts used throughout
Tight tolerance parts used for analogue filtering
Low noise audio stage power supply regulators
Phono Card MM/MC: All discrete transistor audio stages
High quality parts used throughout
Tight tolerance parts used for accurate equalisation
Low noise power supply regulators
DC coupled input stage
Outputs:
Power Output (Stereo): 110W per channel at 1kHz into 8 Ohms
Pre-Amplifier
Pre-Amplifier Output: 1.9V for rated input (gain *18dB full volume)
Maximum Output: 7.7V RMS @ 1kHz
Frequency Response: 20Hz - 20kHz + 0.5dB
Total Harmonic Distortion: <0.03% at rated output, ref. 1kHz
Signal to Noise Ratio: >100dB, ref. rated output
Channel Separation: >60dB 20Hz - 20kHz
Headphone
Output Impedance: <12 Ohms at 1kHz
Maximum Level into 33 Ohms at 1kHz & 0.05% THD: 4.8V RMS, (700mW)
Total Harmonic Distortion at 2V Output 1kHz: <0.02%, (120mW)
Maximum Level into 330 Ohms at 1kHz & 0.02% THD: 7V RMS (150mW)
Inputs (Line)
Input Impedance: 76 Ohms minimum (line input)
Input Sensitivity: 250mV
General
Mains Supply: 110/120V or 220/240V, 50/60 Hz (factory set)
Fuse: TSAL for 110/120V units, T4AL for 220/240V units
Power Consumption: <400W, 8 Ohms load, both channels driven
Dimensions (HxWxD): 115mm x 440mm x 300mm
Net Weight: 12kg
Gross Weight: 14kg
Exposure 3510 integruotas stiprintuvas
Prieinamumas:

Sandėlyje

Modelis:

Exposure 3510

Mato vnt.:

vnt.

Exposure