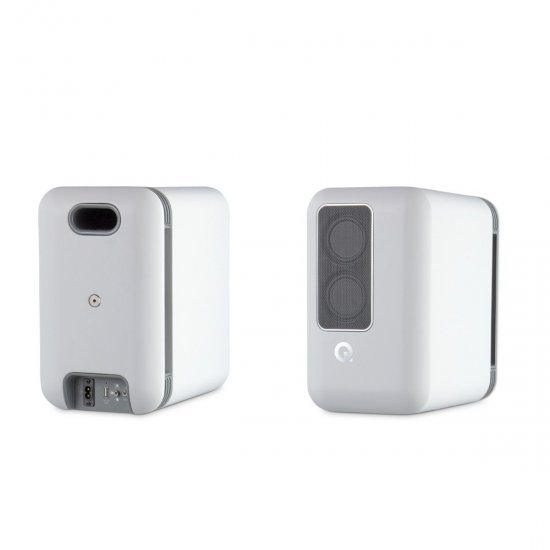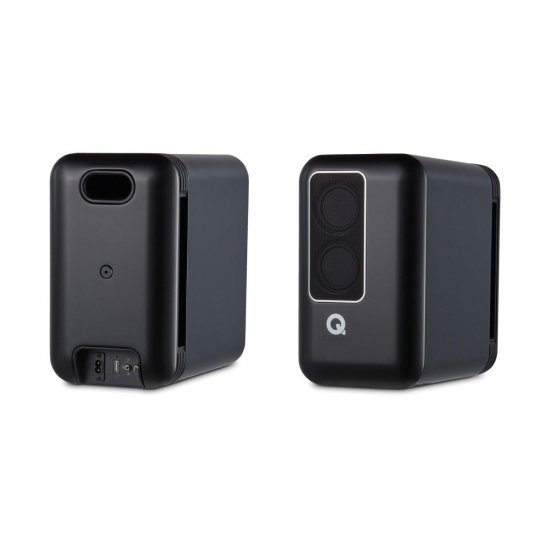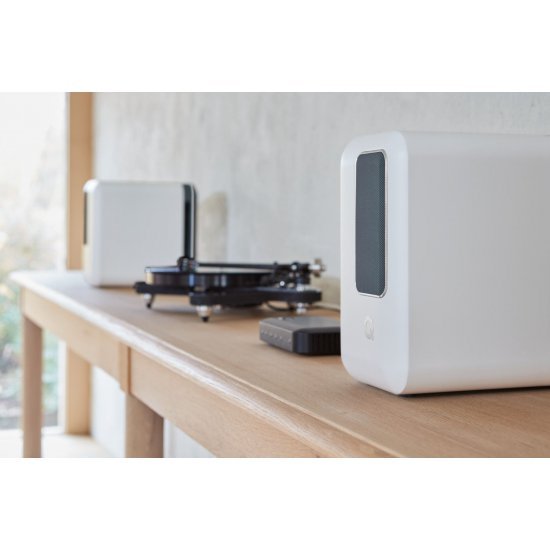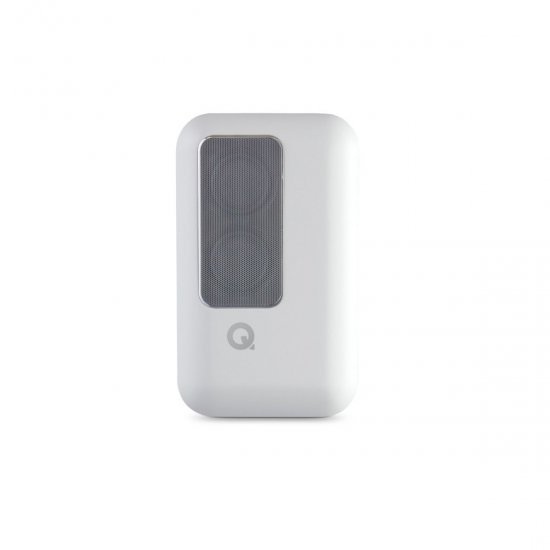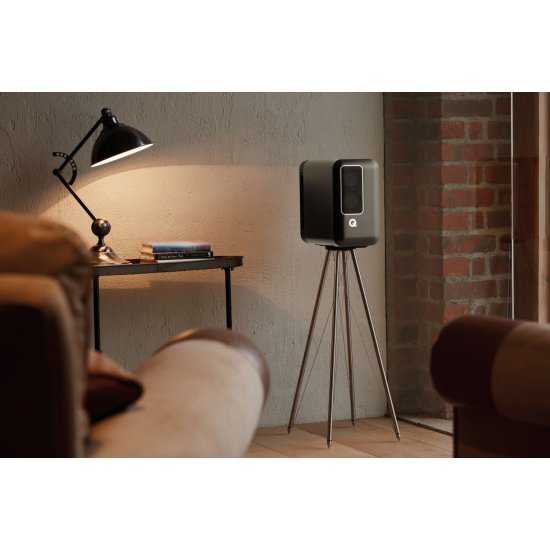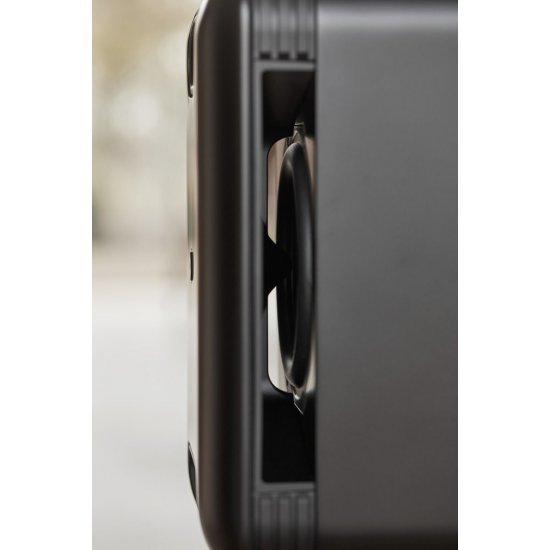 Naujiena






Q Active 200
Active Speakers
Expect The Exceptional.
An entire high-resolution wireless audio system, delivering uncompromised hi-fi sound that fits conveniently and seamlessly into your lifestyle.
Key Features
High fidelity sound with true wireless connectivity from multiple streaming services: Apple AirPlay 2, Roon, Spotify and plenty more gives access to a planet's-worth of music.
Integrate your TV, turntable, games console and more into your wireless, music-streaming system.
Voice control - works with Google Assistant, Amazon Alexa (available early 2021) or Apple Siri for easy voice control.
Wireless Connectivity
Each Q Active system includes connectivity for Bluetooth® 4.1, Apple AirPlay 2, Spotify Connect and UPnP. Q Active is also Roon Ready* Coming Soon. The hub comes in two variants, one that works with
Amazon Alexa† Coming Soon or one that is compatible with a Google Assistant-enabled device with Chromecast built-in™.
In addition, Q Active is designed to support your favourite streaming service's native app - which means simple, straightforward access to the entire planet's music. Q Active works with Amazon Music, Apple Music, Deezer, Qobuz, Spotify and Tidal.
Q Active Control Hub
Compatible with a Google Assistant- enabled device with Chromecast built-in or works with Amazon Alexa.
Q Active's hub is the heart of the system and also supports physical formats and converts them into a high resolutions 24bit/96kHz digital file. The hub then streams this high-resolution audio file to the speakers – so any format you want to listen to can be dealt with wirelessly by your Q Active system. Which means high-quality wireless audio performance no matter the source of your music.

* Alexa enabled coming soon.
Ethernet
Ethernet connectivity provides the option for a robust wired internet connection to Q Active.
Sound
The Q Active range is a true active design, with class D amplification eliminating the need for a bulky external amp or receiver. Q Active 200 speakers feature twin Balanced Mode Radiator (BMR) drive units in an offset configuration that deliver a widescreen sound dispersal and a huge sweet spot: so no matter where you're sitting in the room, you'll hear the same rich, detailed and expressive sound from the Q Active speakers.
Design
Meticulous attention to detail has produced a compact, high-performance system that makes a distinctive visual statement - but every element of Q Active has been engineered to deliver the best performance possible.
As well as the panoramic, widescreen sound delivered by the BMR arrangement and the deep, controlled bass served up by the carefully specified and positioned subwoofers, Q Acoustics has paid painstaking attention to the way the Q Active 200 cabinet contributes to the system's outstanding sonic performance.
'Dart' bracing is in the Q Active 200 cabinet to provide essential stiffness to the cabinet and equally helpful mechanical stability to the rear-firing subwoofer units.
Speaker Specifications
Acoustics

Enclosure type
Reflex (ported)
Full range driver
2 x BMR 58mm (2.25in)
Subwoofer (high excursion)
1 x 114mm (4.5in)
Crossover frequency
150Hz
System frequency response (free boundary)
46Hz to 20kHz (-6dB)

Power (per speaker)

Continuous power
100W
Peak power
280W

Power requirement

Voltage range
100 - 240 VAC, 50/60 Hz

Weight and dimensions

Un-boxed weight (per speaker)
7.5kg
Dimensions (per speaker) H x W x D
284 x 170 x 290mm (11.2 x 6.7 x 11.4in)
Dimensions on stand H x W x D
922 x 286 x 338mm (36.3 x 11.3 x 13.3in)

Wireless connectivity

Hi-Res Wireless Link frequency
5.8GHz

Audio playback

Sample frequency
96kHz
Bit depth
24bits
Max Source Resolution
32bit/192kHz
Hub Specifications
Power requirement

Voltage range
100 - 240 VAC, 50/60 Hz

Weight and dimensions

Un-boxed weight (per speaker)
0.5kg
Dimensions (per speaker) H x W x D
40 x 180 x 112mm (1.6 x 7.1 x 4.4in)

Wireless connectivity

Bluetooth
v4.2 Low Energy
Wi-Fi
IEEE 802.11 a/b/g/n and 802.11ac compliant
Hi-Res Wireless Link frequency
5.8GHz
Remote control
2.4GHz

Audio playback

Codec formats
AAC , WAV, FLAC, MP3, Vorbis, WMA & ALAC
Sample frequency
8 – 192kHz (depending on codec)
Bit depth
8 – 24bits (depending on codec)

Wired connectivity

Digital optical
96kHz/24bit Toslink
Digital HDMI
96kHz/16bit ARC (2 channel)
Analogue (set to line level)
300mV/18kΩ
Analogue (set to phono MM)
2.6mV/47kΩ (RIAA Equalised)
Subwoofer output
1.20V (0-300Hz)
Q Acoustics Q Active 200 aktyvinės garso kolonėlės
Prieinamumas:

Sandėlyje

Modelis:

Q Acoustics Q Active 200

Mato vnt.:

pora
Bowers & Wilkins