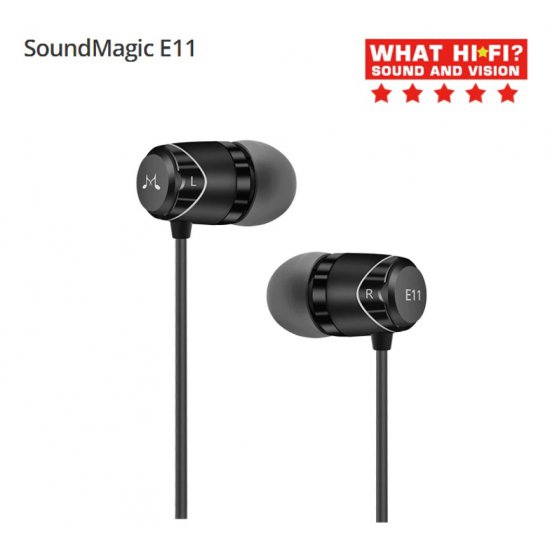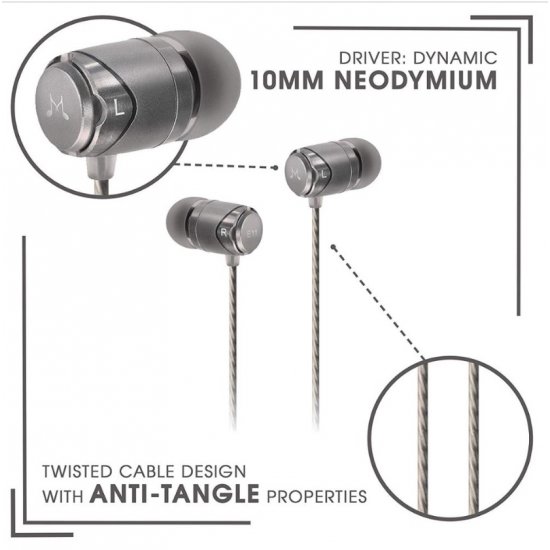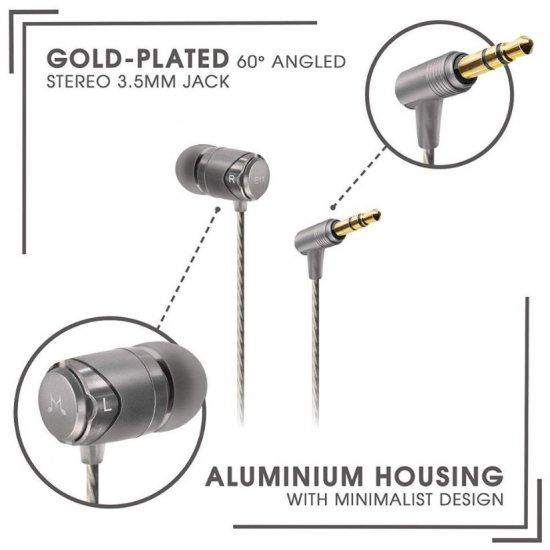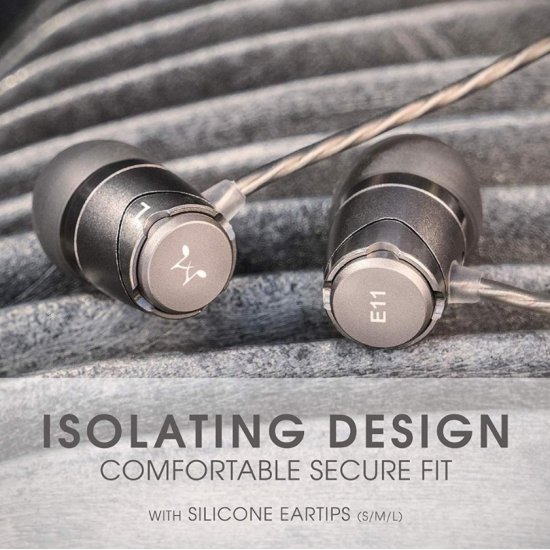 SOUNDMAGIC E11
Taking the earphone experience to higher levels, SoundMAGIC have created the E11 isolating earphones evolved from the original sound of award-winning E10 earphones. Full aluminium construction, updated drivers and a high-resolution silver-plated audio cable make for a robust build and enhanced audio performance.
Equipped with an updated driver, the SoundMAGIC E11 provide a more mature and sophisticated sound image with smoother high-frequency detailing and more textured low-frequency extension. The addition of a silver-plated copper cable make for enhanced signal transmission. This silver-plated copper cable also eliminates interference with a special pair shielding wire structure design.
Two elements in the design of the E11 make for the best comfort levels and sound experience: the right structural build and in-ear isolating design. Designed with ergonomic shaped housing together with the right silicone eartip, the E11 ensures comfortable, immersive and private listening in highest fidelity.
Sophisticated Sound
Providing refined and accurate sound from redesigned 10mm dynamic drivers, SoundMAGIC E11 delivers a balanced sound image with extended transparent detail and warm, textured bass.
Elegant Aluminium Housing
Completely crafted from aluminium in a high-precision cutting process and finished with a unique hand painting process, the lightweight and robust housing of the E11 displays a delicate texture with refined and elegant appearance.
Silver-Plated Copper Cable
To ensure the best signal transmission the E11 have been fitted with high-quality silver-plated copper cable to effectively reduce the loss of signal quality and obtain high-resolution sound levels.
Comfortable Isolating Design
E11 combine ergonomic angled sound tubes with an in-ear fit that seals the ear canal totally with soft silicone eartips to provide a secure fit with total sound isolation and immersive listening.
TECHNICAL SPECIFICATIONS
Driver: Dynamic 10mm Neodymium
Frequency range: 15Hz - 22kHz
Impedance: 42Ω
Sensitivity: 112dB at 1kHz/mW
Cable length: 1.2m
Connection: Gold-plated 60° angled stereo 3.5mm
Earphone body material: Aluminium
Weight: 12g
FEATURES
Balanced, accurate sound with rich bass and extended clarity
Machined aluminium housing with minimalist design
Silver-plated copper cable provides high-resolution audio
Twisted cable design with anti-tangle properties
Durable aluminium angled jack plug and y-split section
Comfortable and secure fit with isolating design
PACKAGE INCLUDES
SoundMAGIC E11C Earphones
Silicone eartips (S/M/L)
Storage pouch
SoundMAGIC E11C ausinės
Prieinamumas:

Sandėlyje

Modelis:

SoundMAGIC E11C

Mato vnt.:

vnt.

SoundMAGIC