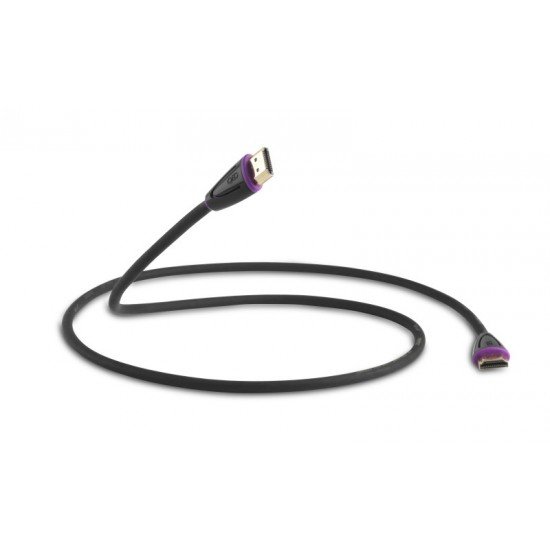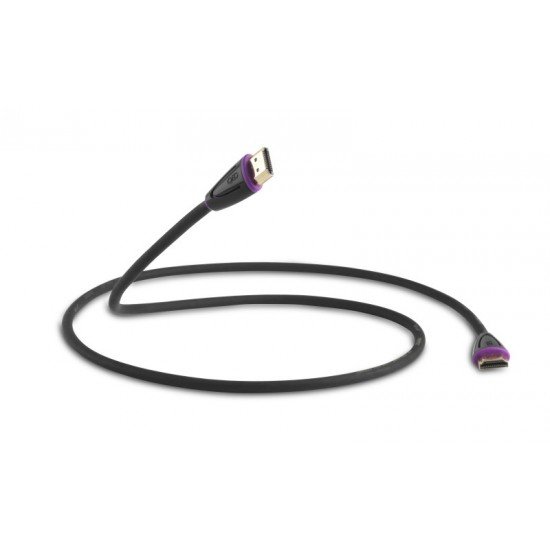 QED's multi-award winning profile HDMI cable just got better.
The class leading compact HDMI cable which won the Product of the Year Award 2010 in What Hi-fi? has been constantly developing since - with all lengths being designated Deep Colour capable in 2011 and the HDMI Ethernet and Audio Return channel added in 2012. Now QED have added an eFlex™ jacket and a miniature plug to the already versatile design so that the cordage is at once more pleasing to handle and even better at fitting into those confined spaces behind wall mounted large flat screens. At QED, we offer a lifetime guarantee on all our cable products.
OVERALL PERFORMANCE
HDMI HIGH SPEED WITH ETHERNET

Applies to any HDMI cable that has been tested at an authorised test centre and has been found to pass the eye mask test at a combined data rate of 10.2Gb/s 340Mhz pixel clock. The cable must also have passed testing of the CEC and DDC connectivity and be compliant with HDMI Ethernet and Audio Return Channel test procedure.

LOW JITTER

Jitter is the undesired deviation from true periodicity of an assumed periodic signal in electronics and telecommunications, often in relation to a reference clock source. A cable displaying low jitter has been measured at
typically 75p.s

3D & 4K COMPATIBLE

3D = compatible with 3D TVs; cable has a minimum bit rate of 4.45 Gb/s

1080p Full HD = a video resolution with a bit rate of 4.45 Gb/s

4K = Highest native video resolution offered by HDMI 1.4b; 4096×2160p24 36 bit/px = bit rate 8.03 Gb/s

High Speed with Ethernet = 10.2Gb/s so any High Speed Cable supports all these resolutions

EFLEX CORDAGE

Incorporates an Ultra Matte PVC jacket to give the cable ultimate feel and flexibility. Only available in matte black or white
FEATURES AND BENEFITS
ACCURATE VIDEO AND AUDIO PERFORMANCE

Independently tested to 13.5Gb/s* to deliver High Speed w/Ethernet and exceed the requirements of the latest HDMI specification.

Supports Full HD, 3D, 4K and Deep Colour.

LOW JITTER

Profile eFlex HDMI measures at less than 70ps of jitter to deliver accuarte timing of video and audio data.

*QED Laboratory tested 1m length using unequalised pseudo random bit pattern and standard eye mask for TP2 (H = 0.6TBIT V = 335mV).

COMPACT AND DISCREET DESIGN

With an all new miniature plug body design, the minimum clearance required for this cable is now a tiny 40mm which means it will disappear completely behind any wall mounted or free standing display.

EFLEX CORDAGE

The e-Flex jacket is comprised of a special PVC compound which makes the cable extremely flexible, enabling it to be used in tight spaces between the TV or projector and the wall.

SPECIFICATIONS

99.999% Oxygen Free Copper conductors


Minimum clearance 40mm


3D Compatible


Supports 4k x 2k Resolution


Full HD 1080p60


Deep Colour


HDMI Ethernet & Audio Return Channel



QED Lifetime Guarantee
CABLES MATTER
QED is the only UK manufacturer able to test HDMI cable designs beyond the scope of the current HDMI specification, which means it is uniquely placed to evaluate new technical innovations before deciding whether or not to introduce them into full production. QED has identified cable induced timing error, termed 'jitter', as one of the key differentiators between satisfactory and outstanding cables. Because QED customers demand better, we have scientifically designed our cables to reduce jitter to the absolute minimum.

The new Profile eFlex™ HDMI uses a new PVC variant dubbed 'Ultra Matte' which takes advantage of recent advances in plasticizer technology to produce our most flexible HDMI jacket material yet. With an all new miniature plug body design, the minimum clearance required for this cable is now a tiny 40mm which means it can be completely hidden behind any wall mounted or free standing display.

New desirable design, improved flexibility, smaller head shell and now High Speed up to and including 3m!

Profile retains the QED quality control and attention to detail that so impressed What Hi-fi? all those years ago - this means that the cable we designed, prototyped and measured is the same one that you can buy in the shops time after time. Using our state of the art HDMI test suite we can test and measure each new batch of cables so that, unlike some other manufacturers, we aren't reliant on the variable quality of cordage on the world market at any particular time. This is why each cable sold comes with a QED Lifetime Guarantee.
QED Profile eFlex HDMI kabelis (1m - 3m)
Prieinamumas:

Sandėlyje

Modelis:

QED Profile eFlex HDMI

Mato vnt.:

vnt.

QED